Leo Nocentelli of The Meters with special guest Cyril Neville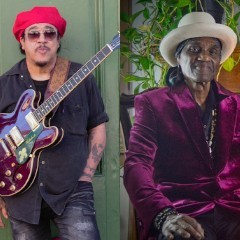 Leo Nocentelli
LEO NOCENTELLI, Master Guitarist, Composer and the creator and "Innovator of Syncopated Funk" composed one of the most internationally noted, Grammy inducted songs, "CISSY STRUT" for the iconic and legendary Pioneers of funk THE METERS , 2018 Grammy Lifetime Achievement Award recipient and a four time ROCK AND ROLL HALL OF FAME nominee.
As well as, the many accomplishments and achievements, with and for THE METERS. Leo has performed, composed and recorded with such great and iconic artists, such as, ALLEN TOUSSAINT, PETER GABRIEL, PAUL McCARTNEY, PATTI LABELLE, BUN B, STANLEY CLARKE, JOE COCKER, RAMSEY LEWIS ZZ HILL, ALBERT KING, ETTA JAMES, HARRY CONNICK, JR., GEORGE DUKE, CYRIL NEVILLE, TROMBONE SHORTY, and many many more.
Leo Nocentelli is known as the "funkiest, fast-fingered guitar player of today and has been credited as one of the 50 top guitarists in the world of ALL TIME, as well as, the "MOST SAMPLED Guitarist EVER" and has written more than 400 songs.
Leo in continuing to evolve his style with varied elements that cover blues, rock, rap, jazz and hip hop, but still considers himself mainly a funk musician.
Leo's compositions and contributions has continued to evolve, with personal appearances on stages and TV shows alike including "Saturday Night Live", along with the recognition and special guest invitation to perform live with THE ROOTS on The Tonight Show with JIMMY FALLON, JIMMY KIMMEL LIVE., PAUL SHAFFER and the CBS ORCHESTRA on LATE NIGHT with DAVID LETTERMAN and, Leo has performed from coast to coast across the U.S., including appearances at the New Orleans' Jazz & Heritage Festival, as well as, international tours, including Tokyo & Osaka, Japan, Sao Paulo, Brazil and other European spots and LEO'S FUNK goes on and on and on.....
Now, after 50 years there has been a discovery of a lost treasure of songs by Leo that has produced the very Acoustic "Hit" album on the Light in the Attic record label entitled "ANOTHER SIDE".
---
Cyril Neville
Grammy award recipient New Orleans' Neville Brother, Cyril Neville, has been called a philosopher, poet and one of the last great southern soul singers. In 1970 he released his debut solo single, "Gossip" backed with "Tell Me What's On Your Mind," songs as written and produced by Leo Nocentelli, which was recorded with brother, Art "Poppa Funk" Neville, Leo Nocentelli, George Porter Jr. and Zigaboo Modeliste.
In 1975, The Rolling Stones invited The Meters, including Cyril, to support the band's world tour. Cyril has co-written songs with Bono of U2, Taj Mahal, Tree Adams, Trombone Shorty and Allen Toussaint to name a few and was the one that Lanois credits as the musical catalyst that led to the Neville's Grammy award winning record "Yellow Moon." He's featured on recordings by Bob Dylan, Robbie Robertson, Dr. John, Tab Benoit, Edie Brickell plus many, many more.
Cyril's international performances include the infamous Amnesty International Tour with U2, The Police, Fela Kuti and was profoundly honored to sing for the Nobel Peace Prize Winner and former, first black president of South Africa, Mr. Nelson Mandela.
There is no doubt that within the first few vocal notes it is easy to hear that musical royalty runs deep in Cyril's blood and he remains a percussionist and a drummer to be reckoned with.
In 2017, The Neville Brothers received the 2017 Austin City Limits Hall of Fame Inductee award. On July 14, 2018 he received the Recording Academy's, Grammy Lifetime Achievement Award along with The Meters. Touring is in the near future for Cyril with his new album and a surprise endeavor, Orchestras. He is a force of charisma, dignity and fire to be reckoned with and once he hits the stage, his vocals are chillingly perfection and paralleled to none. Simply put, musical legendary greatness is Cyril. "Uptown Ruler" Neville. And he ain't stopping no time soon…stay tuned.