Tedeschi Trucks - Fireside Live (special appearance on ship in port of New Orleans)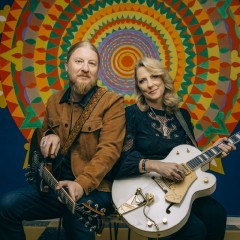 Tedeschi Trucks Fireside Live is a modified version of the full powerhouse ensemble led by the husband/wife duo of guitarist Derek Trucks and singer/guitarist Susan Tedeschi, "two of the best roots rock musicians of their generation" (NPR). With 6 band members, Fireside Live brings to the stage a rare intimate window into the band's creative chemistry while still offering dynamic world-class musicianship.
From uplifting soulful anthems, to bittersweet ballads and driving rock and roll, they create unique nightly performances that showcase a genre-defying repertoire that is all their own. Anytime, anywhere this musical family gathers is an opportunity to witness something rare, deep and powerful.