Dwayne Dopsie and the Zydeco Hellraisers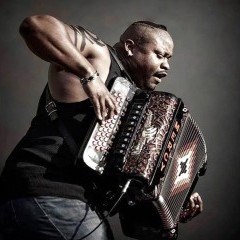 Dwayne (Dopsie) Rubin hails from one of the most influential Zydeco families in the world. Although inspired by tradition, Dwayne has developed his own high energy style that defies existing stereotypes and blazes a refreshingly distinct path for 21st century Zydeco music. This singer/songwriter and accordionist has performed all over the world since debuting his band, Dwayne Dopsie and the Zydeco Hellraisers, at age 19.
The Louisiana native writes both the lyrics and music for his songs and describes the upcoming album as soulful with a touch of blues and a old time zydeco feel.
Dwayne Dopsie, grew up in Lafayette, Louisiana, teaching his self how to play accordion watching videos of his father and Clifton Chenier and recording his self with a video camera and going back and watch it and playing over and over for hours until it was right . The knowledge of Dwayne's musical ability along with zydeco Hellraisers band members are Combined, to have over 100 years of experience playing Zydeco music and it shows in every performance. The energy, true talent, and exuberance that Dwayne Dopsie and the Zydeco Hellraisers emit from stage makes it obvious that there is no competition for this band.
Dwayne is a well-decorated musician, including being a:
2022 Grammy winner for jazz fest a New Orleans story
2022 Big Easy award Best Zydeco Band
2-time Grammy nominee 2012-2018
20-time offbeat winner, best accordion, Best band, zydeco album, Best zydeco artist
Big easy award winner and Dwayne Dopsie is on the 100 reason people come back to Louisiana number 29