Louisiana's LeRoux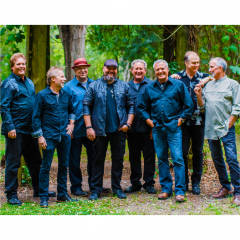 A Treasure of the South...
Their 1978 Capitol press release read, "LeRoux takes its name from the Cajun French term for the thick and hearty gravy base that's used to make a gumbo." LeRoux's eponymous first album was a musical gumbo that blended various instruments and music arrangements into a spicy, mouth-watering southern rock sound. In fact, their Southern anthem 'New Orleans Ladies',voted Song of the Century by Gambit Magazine, simmered with the laid-back feel of the "Big Easy," evoking images of Bourbon Street and the bayou.
Following the success of the first album, the group released Keep the Fire Burning in 1979 and UP in 1980. In 1981, LeRoux recorded Last Safe Place for RCA Records, which became the band's highest charting album. Hits spawned from this recording included 'Addicted' (#3 Mainstream Rock), 'Nobody Said It Was Easy' (#18 Hot 100), and 'Last Safe Place' (#77 Hot 100). The band completed their second album for RCA in 1983, So Fired Up.
This era marked the advent of MTV and LeRoux was in the forefront filming several videos that made their debut on that music channel. In addition, LeRoux performed on Solid Gold, The Midnight Special and Don Kirchner's Rock Concert, the late-night television music shows that were so popular at that time.
​Over the years, LeRoux enjoyed performing with many of classic rocks' greatest bands including The Allman Brothers, Wet Willie, Journey, Kansas, Heart, The Doobie Brothers, Charlie Daniels, Foreigner, Marshall Tucker, The Outlaws, ZZ Top and many, many more.
The band joined Tab Benoit in 2007 and 2008 to record his albums, Brother to The Blues and Power of The Pontchartrain. Brother to The Blues earned Benoit and the band a Grammy nomination. The following year, the band joined Tab for a live album, Night Train to Nashville, recorded live in Nashville, TN.
On July 24th, 2020 LeRoux released its seventh studio album on Gulf Coast Records, One of Those Days, which quickly became the number one selling album on iTunes. One of Those Days has been the bands most highly acclaimed release to date, with hundreds of glowing reviews.
LeRoux was inducted into the Louisiana Music Hall of Fame as their 50th inductee.