Big Chief Monk Boudreaux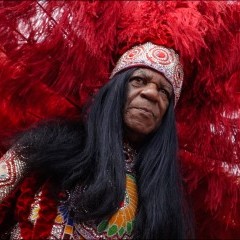 Grammy Nominated Big Chief Monk Boudreaux is the oldest living Mardi Gras Indian Chief, the Elder of Elders in a tradition
dating back to the 1800s. As such, he sees himself as the guardian of a spiritual discipline that involves gnostic customs and beliefs shared by members within the New Orleans Black community over the course of multiple generations. He is one of the best-known and loved local culture heroes, a National Endowment for the Arts National Heritage Award recipient, the subject of murals on city walls and documentaries about New Orleans, and the inspiration for characters in television dramas like the HBO series Treme. He comes by his status as a Mardi Gras Indian chief through bloodlines of both African and Native American ancestry.