Get Decked Out for Theme Nights!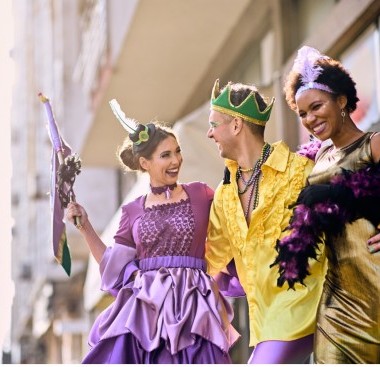 We'll keep the party going all night long, New Orleans style, with our theme night parties. Although dressing up is not mandatory, we encourage everyone to get decked out and have some fun!! So, start packing – we can't wait to see your duds!
Black and Gold: Who dat say they're ready to party? It's time to don your black and gold finest! Slip into your most glamorously glittering attire OR throw on that Saints jersey. Whether you're a die-hard fan or a gilded goddess, join the revelry!
Mardi Gras: Let the good times roll as we say, 'Au revoir, mon ami!' to the Crescent City. Throw on your rowdiest feathers, sequins, and masks because it's time to unleash your inner party animal! Join the colorful chaos, where the streets are filled with vibrant parades, dazzling floats, and an endless supply of beads. This is your chance to let loose, dance like nobody's watching, and embrace the spirit of New Orleans.
Bayou Party: Think beach vibes with a Louisiana twist. Bust out your floral shirts, grass skirts, and Mardi Gras beads as we bring the beach party to the bayou. Get ready to boogie on the bayou in your wildest beach-inspired costumes!
Fiesta Night: ¡Arriba, arriba! It's time to fiesta like there's no mañana at our colorful and vibrant Fiesta! Dust off your sombreros, shake those maracas, and bring the fiesta spirit to life. This night is gonna be hotter than a summer night in NOLA!
We'll share the official order and schedule of theme nights soon, so stay tuned!