Introducing Cha Wa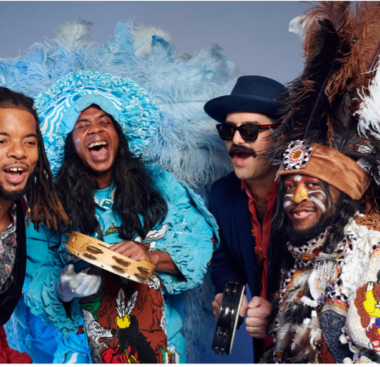 There's some deep history here. Too bad we hardly have time to scratch the surface.
No one really knows when it happened. Maybe the 1800s. Maybe even before that. Somewhere, somehow, enslaved or formerly enslaved African Americans encountered Native American ceremonies. Adapting the attire into their own Mardi Gras tradition, they formed themselves into Tribes. The accompanying music drew on deep roots in Africa and the Caribbean. "Iko, Iko" aka "Jockomo" is the best-known Indian song because it became a pop hit.
The costumes are intricately hand-sewn with beadwork, feathers, sequins, velvet, and stones. The images are fantastically detailed. Typically, costumes weigh over one hundred pounds. Often, they're worn just once, although it's common these days to see the Indians on Saint Joseph's Day and at other events around the city. If you're in New Orleans and want to know more, visit House of Dance & Feathers on Tupelo Street.
On the Big Easy Cruise, we're bringing you one of the finest Mardi Gras Indian bands, Cha Wa. Some members, including Honey Banister (who talks to us here) have roots in the tradition spanning decades. Others, like drummer Joe Gelini (who joins him here), were born outside the city. In fact, Joe attended the Berklee College of Music in Boston.
Can you think of any other city in the world that could organize a cruise around its music and lifestyle?
Joe and Honey: Impossible! Only New Orleans! Nowhere else.
Why did African Americans in New Orleans adapt traditional Native American dress and self-style themselves as Indians?
Honey: You gotta remember that Black people in New Orleans, anywhere else come to that, didn't have assets. We wanted to come out on Mardi Gras Day in some apparel. Back in early times, we might come out in real fish scales. Now we come in sequins, rhinestones, and so on. Some Indians say we're mocking them, but we're not. Everything we do is about us. We're not mocking anyone. No one else does it like we do here. We'll spend all year making the costumes. Sewing, sewing, sewing.
Where did the name Cha Wa come from?
Joe: The Mardi Gras Indians shout it in the street. So, Honey is the Big Chief of the Creole Wild West Tribe. They'll see another Tribe coming and the Spy Boy will yell out "Cha Wa!" It can mean different things, like "Here we come!" "Look out!"
Honey, you come from New Orleans. When you began playing with Joe, who isn't from the city, who accommodated whom?
Honey: Music don't care where you're from. Music don't have no color. Joe just had a liking to our style of music. Music connected us. He's the drummer. Drummer brings the backbeat. Drummer brings the force. With Joe, we'd get up on-stage and we'd play all the old stuff like "Li'l Liza Jane." Folks would say, "Well, that's good, but what else you got?" That's where Joe stepped in. He'd say, "Well, let's try this. Let's try that."
Honey, your father was a very renowned guitarist in and around New Orleans. He played with local R&B guys like Sugarboy Crawford (who originated "Iko, Iko" aka "Jockomo"). His last appearance was on Cha Wa's first record, so that must have felt like passing it on.
Honey: I was in and out of the studio with my dad pretty much my whole life. He brought music to my heart. Doctor John kept company with us. Wasn't nobody we didn't know.
When we did our first record, it was real important to get my daddy's OK. He knew right from wrong. He knew it all from the ground up.
Joe, if you listen to a playlist of Fifties, Sixties, Seventies R&B, you can pretty much always tell the New Orleans tracks. Usually, the drumming gives it away. What's so special about it?
Joe: The feeling. The way they play makes you move. Tap your foot. Smile. Those drummers play happy. New Orleans is the cradle of American music. It all came from the syncopated parade beats. That groove. You can trace it back to Africa. Right now, the drummers are several generations from the original Jazz and R&B drummers who came up in the 1940s and 1950s, but their legacy was passed down, just as those original drummers got it from the parades.
Brass band music and New Orleans Indian music embraces funk, psych, and much else. Is that what keeps it fresh?
Joe: It's constantly evolving music. The first Mardi Gras Indian recording wasn't until 1970 when Bo Dollis and the Wild Magnolias recorded "Handa Wanda." Bo was already bringing in guys from the Meters. So it was innovative right from the beginning. We try not to be derivative but still honor the tradition. All music has got to evolve or die, so we do Mardi Gras Indian music the way we want to play it. Create our own self-fulfilling prophecy.
Mardi Gras Indian music is like Black Gospel music. It's not enough to play the record or watch the video. You have to be there.
Joe: There's a visual component to our music that you can't get from listening at home. When Honey goes out on-stage in his Mardi Gras outfit, it's like nothing you have ever seen. He and all the Mardi Gras Indians work on those outfits all year. They're a celebration of life. You cannot get that from a record.
What can our guests on the Big Easy Cruise expect when Cha Wa starts to play?
Joe: Music that comes from the street to the stage to the cruise. We sound and look like a Mardi Gras Indian parade. Brass band parade. Syncopated. Funky. Tons of energy. A moving dance party. Call-and-response. Singing along.
Has anyone ever come up to you after the show and said, "Sorry guys, I did NOT have a good time"?
Joe and Honey: Never!
Joe: The thing is, people can't dance when they're angry. We always get audiences on their feet. They always leave happy. Same with us. We might be tired or not feeling well or preoccupied, but as soon as Honey puts on his Indian outfit, it flips a switch. It's a beautiful thing that we bring to our audiences and ourselves.
Anything you want to add?
Joe and Honey: CHA WA! (Look out!)
- Colin Escott © 2023