Catchin' Up with Fred Tackett of Little Feat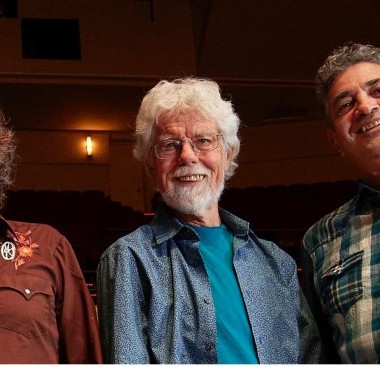 It has been almost fifty-five years since Lowell George assembled Little Feat and almost forty-five years since Lowell died. The band took an eight-year hiatus, then regrouped with some new guys, Fred Tackett among them. But, as Fred tells us, he'd been in Little Feat's orbit from the beginning and he was on tour with Lowell George when Lowell died.
Fred's an engaging, easy-going conversationalist who remembers it all, so if you have a Little Feat question, go say "Hi!" on the Big Easy Cruise and ask away!
We asked Fred a few questions that might have occurred to you, but we didn't ask the obvious one: "Why isn't Little Feat in the Rock and Roll Hall of Fame?" Fred doesn't know the answer, either.
You were brought up in Little Rock. How did you get from Little Rock to Little Feat?
I got a job in Oklahoma City with a supper-club band called Eyebrows. We ended up in Honolulu. Songwriter Jimmy Webb ("By the Time I Get to Phoenix," "MacArthur Park," "Galveston," etc.) came to see us. He liked what I was doing and told me I needed to be in Los Angeles.
My girlfriend, later my wife, lived next door to Lowell and brought him over to Jimmy's house. At that point, Lowell was dressed all in white and only played sitar. I asked him why he didn't play rock music, and he said he only played Hindu sacred music. About three weeks later he was with the Standells playing "Dirty Water." Soon after that, he was with Frank Zappa's Mothers of Invention and we became real good friends. I thought, "This is a guy whose humor I can work with."
Do you have any thoughts on why so much enduring music came from Los Angeles in the late Sixties and early Seventies?
I know the record labels would sign anyone. They didn't know what was going on, so they'd literally sign any kid who showed up looking for a deal. Richie Hayward, who joined Lowell in Little Feat, said he was a drummer, but he was a graphic artist. It was just a wide-open time. Everything was up in the air.
People say you can only recognize a golden era in hindsight. Did you recognize then that you were in the middle of golden era, or were you just wrapped up in the mundane things like … where's the gig tonight? Or are we running out of eggs?
I knew it was golden. Just being at Jimmy Webb's house was gold. Burt Bacharach might drop in, or Glen Campbell, and Hendrix might be sleeping on the couch. Peter Tork barbecuing in the back yard. It was so different from the previous six years with the supper-club orchestra.
There are different stories about how Lowell and Frank Zappa parted ways. What did Lowell say?
Lowell sometimes told people that Frank fired him because Lowell wanted to do "Willin'", and Frank didn't like the "Weed, whites and wine" line. Actually, Frank told him he was wasting his time and should form his own band. Frank even gave him fifty bucks a week living expenses for a time AND got him a deal with Warner Bros. Records.
Did you stay in touch with Lowell after he started Little Feat?
Sure. He stayed at my house on and off. He was having an affair with one of our neighbors. She became his wife.
I remember him writing "Willin'". There are folks who come from overseas and elsewhere to follow the towns he mentions in that song like they're the road to enlightenment. Tucson to Tucumcari, Tehachapi to Tonopah. But Lowell was just sitting at my place with a Rand-McNally atlas, looking for names that fit.
Where did the name "Little Feat" come from?
Zappa's drummer, Billy Carl Black, joked about Lowell having little feet. We used to call his feet "earth pods." They were as wide as they were long. Lowell just changed the spelling, like "the beetles" became "The Beatles."
The Dixie Chicken album was recently re-released with bonus tracks. It had the New Orleans vibe. How did that come about?
Lowell walked around for months with one line "Be my dixie chicken…" That's all he had. He'd copped it off a restaurant sign. A guy he'd known growing up, Fred Martin, helped him finish it.
Lowell came over to Jimmy Webb's studio. I played him one of my songs, "Fool Yourself." Lowell said, "I'll take it." That was my first payday as a songwriter. I played on the album, too.
We were all big fans of New Orleans music. We went to see Dr. John when he was at the Whiskey. Then [the great New Orleans composer and arranger] Allen Toussaint came out with "Southern Nights." Glen Campbell heard it at Jimmy's house and recorded it. We all loved that record. Little Feat did another of Allen's songs, "On Your Way Down," on Dixie Chicken. So the album was coming together with that vibe.
Because of Dixie Chicken, a lot of people think Little Feat is a New Orleans band. We're not, but we all love New Orleans music. In fact, I'd say it's our favorite kind of music. Lowell worked with the Meters and he was with them on Robert Palmer's Sneakin' Sally through the Alley album. The "Sneakin' Sally" title song was Allen's work. Lowell's "Sailin' Shoes" was on that album, too. See, it all connects.
So you'll feel at home on the Big Easy Cruise?
We know nearly everyone on the bill. So yes, we're looking forward to it big time.
Where were you and what were you doing when you heard that Lowell had died?
I was working with him. He was on a solo tour. We'd played the Lisner Theater in D.C. and he died that night. Elizabeth, who'd been my neighbor, was with him. She told me. We canceled the rest of the tour, of course. That was the longest day of my life, waiting at the airport to get back home.
What were you doing before Little Feat regrouped?
I worked with Bob Dylan through his Christian music tours. Four years. Bob and Lowell were good friends, and I think Lowell recommended me to him. I learned how to sleep on a bus working those tours. Bob showed me. Just a regular ol' Trailways bus in those days. And I did sessions, so many sessions. Joan Baez, Rodney Dangerfield, Tom Waits…
When Little Feat regrouped in 1987, what gave you confidence it would work?
We didn't know. It was a jam session that became a rehearsal that became a big deal. We just wanted it to feel as great as the original band. We've lost a few guys along the way, but everyone is grounded in Little Feat music.
We're so pleased you're not only joining us on the first Big Easy Cruise but staying onboard.
We've done a couple of cruises and we loved it. The fans were always respectful. It has been really fun, and I'm sure the Big Easy Cruise will be top level. I can tell it will just by looking at who's on it.
And it's so great that we're stopping in New Orleans. One time, we played on a riverboat sailing up the Mississippi. That's when we knew we were part of a great tradition.